Raising Entrepreneurs: How I'm Raising My Daughter
I have six kids. Yes, that still sounds crazy when I say it. We never knew we wanted six kids; we just never felt complete until then. However, on the way home from the hospital with the sixth, I looked at my wife and said, "I think we're done now." She replied, "I was done at five."
We can't imagine life without the sixth one. He's five now. He loves everything his older brothers love, and he loves them. We have three boys and three girls. The sixth is spoiled; not because we give him whatever he wants, but because we just pretty much gave up parenting. It's hard. It's tiring. It's rewarding.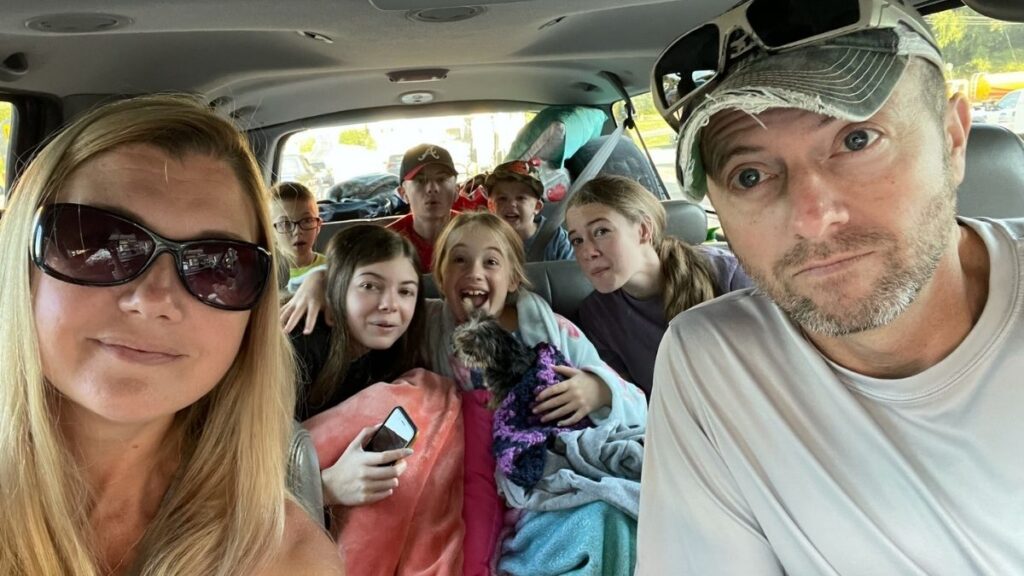 Our fifth child is a girl. She's eight years old. She's my favorite kid. (My other kids keep telling me I'm not allowed to say that). Now she, gets whatever she wants. She's a ballerina. She has ballet practice several times a week and she loves it. She loves life and all humans. She loves all animals. She is just full of love. She is just like her momma. She is almost always smiling and so very happy and positive. She talks as much as my mother-in-law though.
Our fourth child is a boy. He's eleven years old. He's very kind. He learned to love baseball from his older brother. He, too, loves everything his older brother loves. He loves video games. He loves all things manly. He dresses in camo and pretend-hunts on our property. He loves our animals and he loves his mom so much.
Our third child is a boy. He's thirteen years old. He is just like me. He has my sense of humor and immaturity. He lives for baseball. He played on the neighboring city's recreation team for a couple of seasons, because our town is so small and we don't have a recreation department. We don't even have a stoplight in our town; not even a flashing one. I think my family increased the population of our town by 10% when we moved here. He too is kind, but he likes to live on the edge of behavior. He likes to see what he can get away with. My laughing at the things he says does not help the situation.
Our first child is a girl. She is sixteen years old. She is a junior in high school. We homeschool them all. She is also dually enrolled in college. She takes a couple of college courses per semester. She will graduate high school and already be a sophomore or junior in college. She has a car. Her grandparents bought a newer car and gave her their old one. She is in driving school now and that pretty much scares us to death. She is tall and beautiful. All of my girls are, and they all get that from their mother. (I don't know how I was able to land someone like their mom. She is way out of my league in every way). My oldest is very much an introvert. She likes being by herself. She does not like to leave the house. She does not like talking to people. She likes to wear the same clothes every day. She loves hoodies. She loves to read. She loves her dog, Joey.
I jokingly mentioned my mother-in-law earlier. In all seriousness, I could not have asked for better in-laws. They are amazing and very involved with the children. My father-in-law is a veteran of the US Air Force and has always owned his own CPA business. He too has instilled moral and business ethics values into each of my children. He teaches them hard work and rewards them for it. He "makes" my oldest child work for him, clerically, in his accounting office. My mother-in-law loves our children, and all of her other grandchildren, as her own. She definitely spoils them all.
My father owned his own construction company for decades. The best working years of my life were the ones where I got to work alongside him on construction jobs. He taught me about business and quality (he always stressed quality). He taught me about collecting money, relationships, and networking. In sales, you are always selling relationships. The product is secondary.
My mother was always a stay-at-home mom. She made sure that we were loved and safe. She made sure we had a great childhood and she loved taking us on a long family trip out west. She taught us to love God and made sure we were always in church. My mom has been through a lot, or should I say the five of us kids put my mom through a lot. I learned so much about life from her father. I miss him deeply. He would have loved my kids. Every time I struggle with a decision, I wonder what advice he would have given me.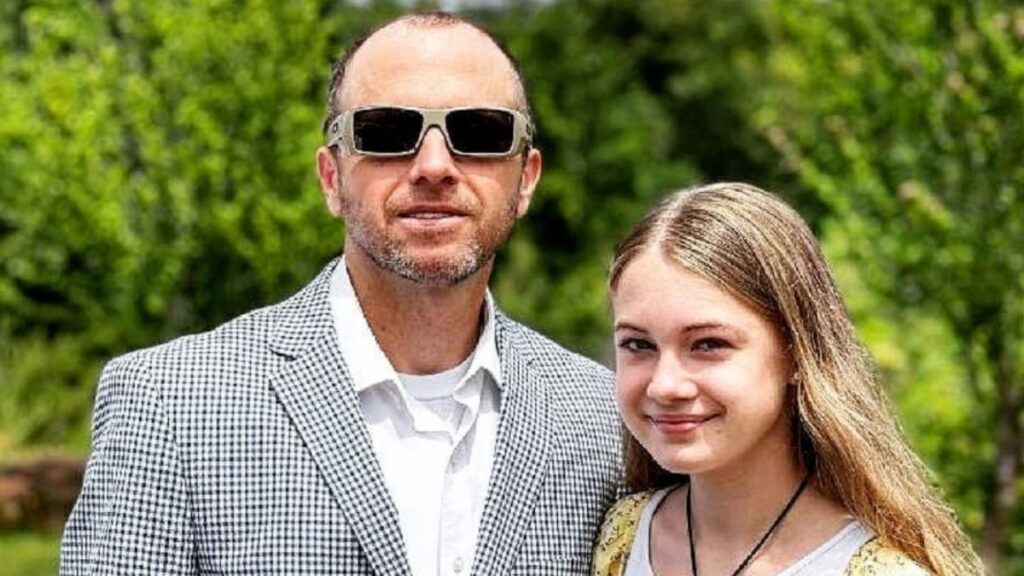 So, yes, I have a second child. She is fourteen years old and she is the reason I am writing this. We have raised all of our children with love. We strive to make them feel loved. We have family meetings, and oh how they love those! (insert sarcasm). We talk about life. We talk about the difficult conversations. Our children know that they can talk to us anytime, about anything. We've taught them to love others. We have historically been involved in caring for the homeless. When Maddie was 4-5 years old we would take our children to the projects where we'd meet with a local ministry, in the streets, and we would feed the homeless. They would line up 100+ to be fed. We would sit and speak with them. 
My children have grown up understanding how blessed they are and how much others are hurting. They know that they are the ones to be the helpers. My wife and Maddie have been known to bake desserts and drive around town, behind buildings and stores, searching for the tent cities in the woods to distribute home-baked desserts. If my daughter's heart is right, but her business fails, she has still won.
My wife has always been a baker, by hobby. She learned from her dad and her grandmother. GiGi would be so proud of Maddie today; and especially of Jamie. When I met my wife, she was a graphic designer and had a great job at a company in Charleston, SC. Not too long after we were dating, she told me, "I have always only ever wanted to be a wife and a mother. My job and my college degree were only a backup plan." My wife stays home with the children and homeschools them. She does everything. Maddie always seemed the most interested in the entire process of baking, as the other kids (and I) were really only interested in the final product. Maddie always helped her mom and soon was able to do all operations from start to finish. She was probably about ten years old.
"I would pay for Maddie to make me a cake."
I don't remember the exact circumstances regarding the first time we heard that, but Maddie was 12 years old. Then it happened again. Then a little later from someone else. Maddie had baked a cake for an event and it was one of those things where everyone asks, "Who baked this cake?" These were all people in our circle of friends. Of course, we declined to charge them at first, I mean, they were our friends, and Maddie loved to bake. Then she brought iced sugar cookies to an event. That was it. Now it became actual work.
My wife and I watched Maddie work so hard, at 12 years old, in our kitchen, to fulfill an order of a dozen. We now had to charge money. We charged way too little in the beginning. Who would pay as much as $2 for a sugar cookie? Many people gladly pay more than that! There is a tipping point in business where you are going to make it, or sink. Maddie decided to make it.
To imply that I taught Maddie how to be an entrepreneur would be a wrong assumption. Entrepreneurship was her instinct. I did not have to convince her that she needed to value her time and work. I did not need to tell her that people close to her would change when they found out that cookies for friends aren't free, or even discounted. Maddie is also a giver. She donates plenty, but she knows that people begin to expect the same 'friends-and-family discount' in perpetuity, and that is a business killer. It's also a relationship killer. The relationship gets damaged, either way, so you might as well make money in the process.
Maddie had decided that she wanted to be a real business, a real bakeshop. She formed the name, "Maddie's Bake Shop" and obtained a business license. She planned ahead and bought the domain name, maddiesbakeshop.com (her email address is [email protected]). She ordered business cards and stickers and felt like, and was a real business. I was very impressed with the, essentially zero, start-up costs. How many businesses are up and running with no debt?!
Obviously, it was a very slow and sporadic business from friends and family. Many turned to Maddie for different events. We are very grateful for all of the support, especially in the beginning, from so many in our circle. She was a business owner at 12. Orders picked up the following year but were still sporadic, and really was just at hobby-level. Maddie had told us, from the beginning, that her goal was to buy an Apple Watch. As soon as she turned 13, she had enough money. She was 13, and bought her own Apple Watch, with her own money, of which she had earned every penny.
Although Maddie was instinctively entrepreneurial, I knew there was much that I could teach her, having been in business all my life. I told her from the beginning that her company needed to pay taxes. My wife keeps all of that in line for her. It is important to me that she learns business at a young age; from the beginning so that it is a habit by the time she is an adult. Maddie continued to receive more and more orders, but nothing too overwhelming; just really enough to save some and use some spending money. I make her put 15% of the profit in her savings account. She buys all of her own ingredients and supplies.
The Big Order
Maddie's aunt contacted her about a large cookie order for her employer. They wanted 350 iced sugar cookies, with their logo, individually wrapped. Maddie practiced the logo in a few attempts on wax paper and told me she did not feel like she could do it precisely enough and/or 350 times. I told her it is always ok to say no. Although grateful, and disappointed, Maddie declined the order. Maddie's aunt contacted her the following day and asked, "What if you just ice them solid white, individually wrap them, and we'll put our company sticker on the front of each wrapper when we get them?"
Maddie accepted. This order was big for her. It had a decent margin too. (Since I mentioned profit, I will share a couple of numbers with you. Her profit margin on one dozen cookies is 800%. Her profit margin on large bulk orders is 500%.) We learned a lot that day about large orders and what to do differently the next time. Maddie worked, on her feet, for 14 hours. My oven was on for 10 straight hours that day. She got to the point where all the cookies were baked and on cooling racks. She (we) iced them the next day at a different location. This location was available to us and had plenty of counter space to spread them out. We all helped her, but she did the bulk of the work.
We always hope that Maddie makes extra cookies; you know, for quality assurance reasons. She wanted to deliver 360 to the customer. Obviously, that accounts for if there were any damaged ones or additional people for whom the company didn't account. She baked 373. Her mom ate one immediately… for quality assurance of course. She delivered 360. This left an entire dozen for our family. Maddie is kind; and generous. She always looks out for her brothers and sisters. We were all so proud of Maddie and how hard she worked on this order.
Viral on LinkedIn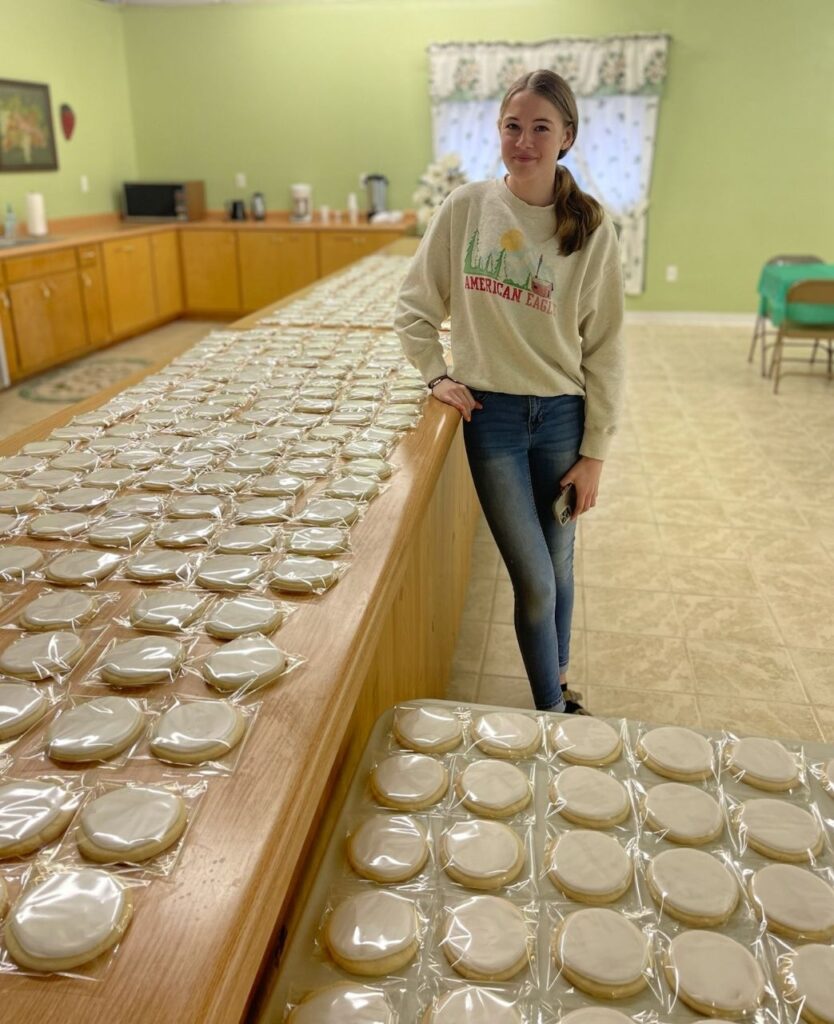 Then it happened. My wife texted me a photo she took of Maddie standing at the borrowed counter, next to all the finished cookies. I loved that photo. The next day I thought that would be such an inspirational post on a platform like LinkedIn, and really just a way to brag about how proud I was of my awesome daughter. I checked the post on my phone later that day and I said, "Madd! My post has 436 views!" She was pleased. We hit the road the next day as I was traveling to fill-in preaching for a pastor friend of mine. We stopped for lunch and I checked the post. It had 23,000 views. We could not believe it. As we were walking out of the restaurant it hit 33,000 views. We were in the parking lot laughing at how crazy that was. I said, "What if it hits 100,000 views?!" As we went to bed that night it hit 1,000,000 views. We were speechless.
There were so many comments about her drive and focus and also about my parenting skills. We woke up the next morning to 1,500,000 views. I got done preaching and we walked out of the church around noon. It hit 3,000,000 views. That afternoon I could not keep up with the comments. So many people were inspired by the post and very supportive. As I write this, it has surpassed 3,600,000 views. I'm ultimately just so happy that I got to experience something like this with my daughter and that she was able to see the fruit of dedication and hard work, and that she, as a 14-year-old girl, could inspire a nation.
We know she's a kid
She is 14. There were some who were, for some reason, very concerned about my 14-year-old daughter not having any time to "be a kid". I deleted most of those comments. Let me just say that my daughter is a kid. Logistically, her priority is school. We are very strict about school and she is an excellent student. She excels in everything that she does. She also loves soccer and plays in the recreational league. She loves the church and her friends and youth group. She goes to Youth Group camp. She cares for our ponies and dogs and our cats. She loves her five-year-old brother and is like a second mother to him. Cookies are her hobby. Her hobby turned profitable. That is all. It's less than a part-time job. To those who are concerned about my daughter's schedule; I ask, "Are you the same level of concerned for boys her age who are completely consumed with sports?"
I mentioned that many of the comments on my LinkedIn post were about what a great parent I must be. I don't know; maybe I am compared to some. I'm around. I'm still married to my wife of over 18 years. I still live at home with my wife and kids. I have standards and strict expectations. We are Christians first; followers of Christ. My goal is to have a family and relationship with them that is pleasing to God. I don't always achieve that. The fact is that the real credit goes to my wife.
My wife exchanged her life for children. She wouldn't have it any other way. Our family is her life. She could have climbed the corporate ladder, or gone into business for herself. She could have 800 connections on LinkedIn. She always only wanted to be a wife and a mother. My use of the word "only" seems to place a demeaning connotation on being a wife and a mother. I believe that is the absolute highest calling in her life, and she was obedient to that calling. She is a master at it. Every moment of my wife's life is spent on the children. (She even has to think for them.) She is amazing. She is exponentially more the reason for Maddie turning out so well than I am. I don't deserve my wife. She is far too beautiful for me and way too smart. I was a construction laborer when she said "yes" to marrying me. She could have had anyone she wanted. She jokes that the next time around she will choose a rich doctor… and then immediately states that there is no way she would ever get married again.
What did I do differently?
I believe the best thing you can do for your children is to be consistent. Be and do the things that you say you will be and do. Have rules. Have standards. Have morals. Have fun. Teach discipline. Model hard work. Love your spouse. Show your children what they have and what others have not. Teach them the humanity of giving and helping those in need. Instruct them on how we are not really here to climb a ladder, build an empire, or go viral on social media. We exist for others. 
The Apostle Paul wrote a letter to the church in the town of Ephesus. He instructed: "Let him labor, working with his hands the thing which is good, that he may have to give to him that needs." This changes everything. We are not working so hard to build our brand, but rather so that we have enough to give to those who don't have enough. That is the entire reason we work. It is the honor of my life to be married to my wife and to be the father of my children. I'm looking forward to all that is yet to come.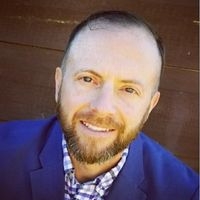 Latest posts by James Stoppelbein
(see all)