Raising Twins: Challenging or Fun?
We had planned to have a third child, I had it planned right down to the date of birth, or so I thought. I wanted our third child to be born in July of 2018. We had a spring and a winter baby, so I thought having a summer baby would be fun. There's a saying that goes something like, man plans, and God laughs, well He had his belly full where my ideas were concerned. In October 2016, I discovered I was pregnant.
At first, I thought, OK, not exactly what I had planned, but I'll work around it. I shared the news with my family, and we were all happy. My eldest Eli was five at the time, and Anayah was 3; Eli wanted a baby brother, and Anayah wanted a baby sister. Eli was so over having a baby sister at the time. Poor guy didn't know what was coming his way.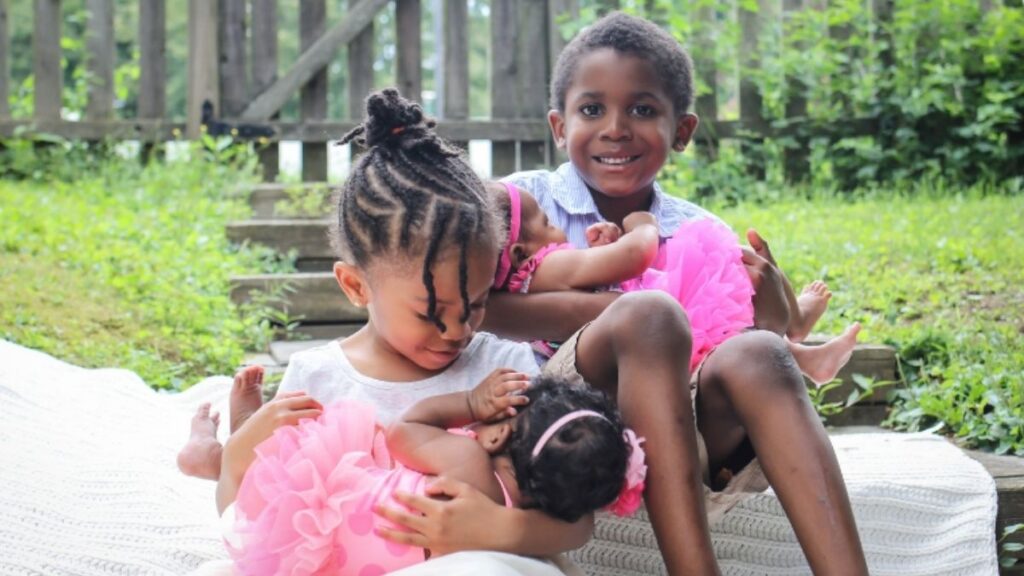 As usual, I was going about my days; this was not my first pregnancy rodeo. I went to my first ultrasound appointment at around 10 to 12 weeks, and the technician was chatting me up and then asked the life-changing question, "do you have multiples in your family?" I'm like, yes, please tell me you do not see triplets, flashing back to the knowledge that I have triplets and twins from my dad's side and twins from my mom's side. She's like, you're having twins. I was inconsolable. It was not something I was prepared for; we were leaping from a family of 4 to a family of 6. Yes, God and His sense of humor. July 2018 that I planned was now Divinely ordained to be June 2017. My calculations were way off.
Even though I knew I was having twins, it never really became real until I held them in my arms. My husband was a mix of emotions; he was happy and worried and everything else in between at the same time. Eli and Anayah were over the moon, and the important part for them was the gender of the babies. My bet was I would have a boy and a girl, but the anatomy scans showed I would have two girls. As you would imagine, Anayah was happy, and Eli hoped I would get pregnant again and have a boy. So not happening.
I reached out to a friend that had twins before, and she gave me sound advice based on her experience. What stuck out to me was the process gets more manageable once they hit four years old, and now that my girls are four years old, I have noticed that I can relax a bit more. They are now a little more independent; they are potty trained, can do their shoes and coats, feed themselves (even though they prefer their parents do it), speak up for themselves, and assist with minor chores. They listen more and are more aware.
When I was about 37 weeks and four days pregnant, I had the girls. They were both close to 7lbs each, so I was drudging around with fourteen pounds of baby. My doctor wanted me to go as close to 40 weeks as possible, and I was willing, but I couldn't continue the pregnancy after a while. I scheduled a caesarian section with my doctor, and the girls were born within three minutes of each other: Shiloh and Zarah, my fraternal girls.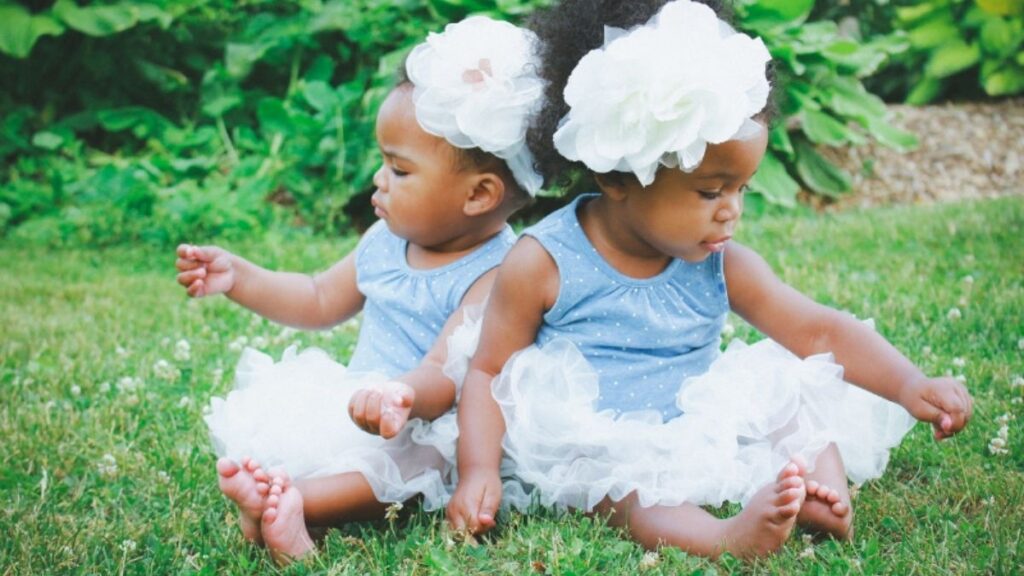 The first few weeks of having the twins were a blur; I was beyond exhausted. My husband and mom helped me out a lot during this time, but even with their help, it was difficult for me. I did not like feeding the girls simultaneously, and it worked out to them waking up within 15 minutes of each other. But it was the frequency they woke; it appeared to be every 45 minutes. Even though I was exhausted, I still had to find time for my older children. When the twins went down for a nap, I used that time to catch up with Eli and Anayah. They used to enjoy these moments so much.
I was so busy trying to meet everyone's needs that I left myself undone and had a brush with postpartum anxiety. A significant trigger was trying to get out of the house. That would always throw me into a tailspin. The first time it happened, it was the scariest feeling ever. My heart was trying to exit its cavity; it was racing. I found coping mechanisms, and I am happy to announce, I am doing much better.
Having twins is as challenging as it is fun. It is comforting knowing my girls will always have each other; they are best friends. They ask for each other as soon as they wake up in the morning, there are lots of fights, but there are lots of giggles, hugs, and kisses. When they think of having twins, I know most people think about dressing them alike, and that is super cute, and I love to do it, but it is so much more than that. My girls both have larger-than-life personalities, and it gets pretty interesting trying to manage them both. Like any parent, I am learning as I go and enjoying the fun journey.
My advice to any mom having twins or multiples is simple:
Get help – you will need all hands on deck. If you are able have someone help you with daily activities like cooking, cleaning, and laundry.
Be patient with the entire process. It takes some getting used to.
Enjoy the journey – the time flies, so take a minute to enjoy each step of the way
Take lots of pictures and videos – as much as you can document the process. They do the cutest things, and it's always nice to be able to keep seeing it over and over again.
Develop a schedule. Having a schedule will make your days easier.
Still find time for yourself – if you are stressed and exhausted, you can easily get burnt out, which will not serve anyone well.
Find a mom tribe. There are several online groups you can join and get support along your journey.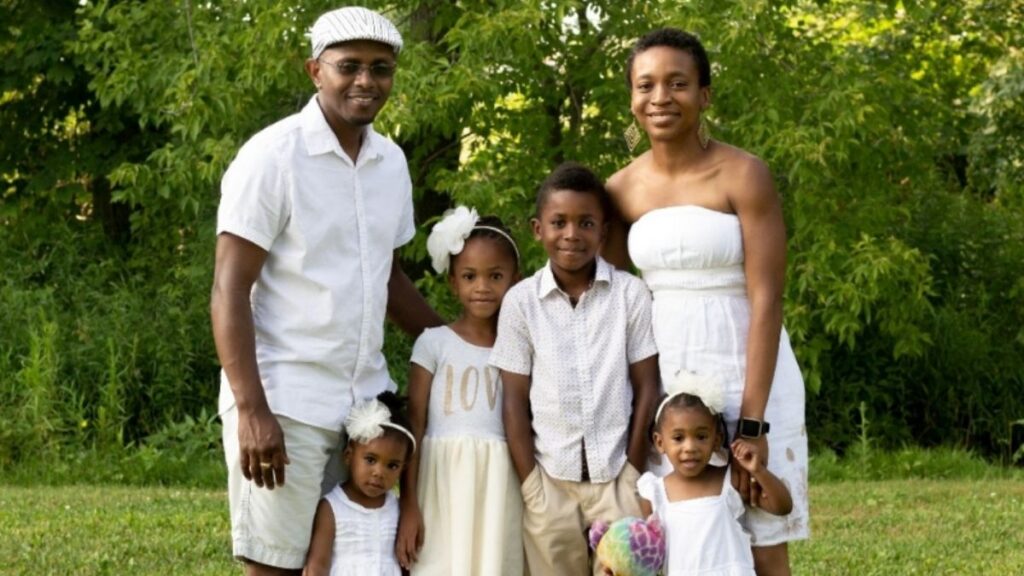 Now that the girls are here, we cannot picture our lives without them. They were the missing piece to our unit. I love the way my older children are so protective of them. I always wanted a large family and I feel so grateful and blessed to have one. Our four-year journey has been fun, entertaining, challenging, exhausting, and filled with love.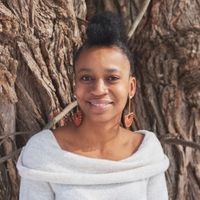 Latest posts by Malaika Archer
(see all)